Visit of the company CILAS:
Following the invitation of the company CILAS SPA, the representatives of the Liaison Office of the University of Biskra and a team of teachers made a session of work at the CILAS cement factory, on Sunday 05 May 2019 as part of the companies-University meetings organized by the BLEU.BLUE is a partnership action for concrete and effective collaboration.
BLUE Director: SOULEH Samah.
Description of the LOEU: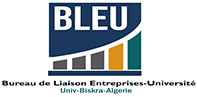 Description of the LOEU: The Liaison Office Enterprise-University (by abbreviation LOEU) of the Mohamed Kheider Biskra University was created by internal decision in November 2016 in the framework of the new orientations of the MESRS, deployed in the direction of a rapprochement between universities and the socio-economic sector. The LOEU is an administrative entity of the university directly attached to the Vice-Rectorate for External Relations and International Cooperation.